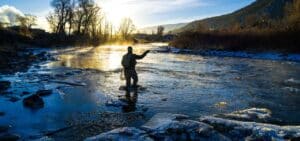 John Perrys is an environmental advocate, avid fly fisherman, and sculptor. With a profound passion for these interconnected pursuits, John embraces the beauty of nature, the importance of conservation, and the power of artistic expression.
At the core of John's ethos is a deep appreciation for the environment. As an advocate for sustainability, John Perrys dedicates much of his time to protecting the environment around him. Passionate about safeguarding wildlife and conserving natural habitats, he actively supports organizations such as the World Wildlife Fund and The Nature Conservancy. 
By advocating for positive change and raising awareness about pressing environmental issues, John hopes to inspire others to become caretakers of the Earth and ensure a better future for the next generation. He believes that through collective action and a shared commitment to conservation, we can affect change for the future. John actively participates in initiatives that promote sustainable practices, such as reducing waste, conserving water, and treating natural habitats with care.
Fly fishing is more than just a hobby – it is a way of life. John finds solace in the rhythm of casting a fly and the anticipation of a gentle tug on the line. Every angling experience brings him closer to the natural world, fostering a deep connection with the environment. It is through fly fishing he immerses himself in the beauty of rivers, lakes and oceans.
John encourages people to fish as a sustainable alternative to purchasing commercial, unethically sourced fish. Catching your own food is a great way to learn about the interconnectedness of the environment. By taking a sustainable approach to fishing, John strives to ensure the preservation of fish populations and their fragile ecosystems.
Sculpture
John merges his creative spirit and love for nature through the art of sculpture. Through intricate and captivating forms, he strives to capture the essence and beauty of nature. Each sculpture tells a story about the delicate balance between the environment and human existence. He hopes his work serves as a reminder about the importance of cherishing and preserving the environment. 
Business Administrator
Beyond his many passions, John Perrys is a seasoned administrator who brings his expertise to various endeavors. With a wealth of knowledge in optimizing operations using key performance indicators, John uses his expertise to streamline processes and enhance performance. His strong foundation in business management, leadership, and operations has allowed John to make a positive impact in the professional realm.